The Platinum Onslaught Pack was a Reward Pack in Blacklight: Retribution.
Overview
Edit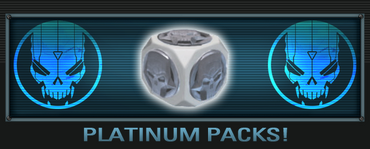 Platinum Onslaught Pack used to show up in the Blacklight: Retribution Marketplace at different times, usually to celebrate a specific holiday or event.
This Reward Pack was priced at 10,000 Zen. While expensive, this pack contained nearly every item that was was purchasable and it includes all items that were in the Onslaught Gold Pack.
Platinum Onslaught Pack Contents Edit
Tactical Gear
Edit
Depot Items
Edit
Lower Body Armor
Edit
Upper Body Armor
Edit
Receiver
Edit
BPFA Barrel Grips
Edit
Magazines
Edit
Alternate Hero Skins
Edit
Premium Heros Skins
Edit
Armor Camos
Edit
Weapon Camos
Edit
Not Included
Edit
Ad blocker interference detected!
Wikia is a free-to-use site that makes money from advertising. We have a modified experience for viewers using ad blockers

Wikia is not accessible if you've made further modifications. Remove the custom ad blocker rule(s) and the page will load as expected.