The Lightsky Red Dot Sight is a red-dot Sight in Blacklight: Retribution.
Overview
Edit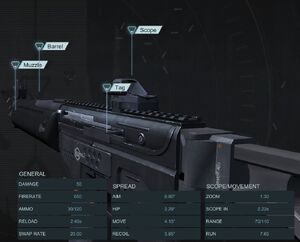 Although the Lightsky Red Dot Sight has less zoom than the basic
Titan Rail Sight
, it is still capable of giving the user a wider field of vision, and a deadly advantage at CQB.
Pre-Parity Patch this scope was called Lightsky L3 Aim Point.
Statistics
Edit
Zoom: 1.30x
Scope-In Time: 0.22s
During the Beta, this item gave +30 on Range.
Ad blocker interference detected!
Wikia is a free-to-use site that makes money from advertising. We have a modified experience for viewers using ad blockers

Wikia is not accessible if you've made further modifications. Remove the custom ad blocker rule(s) and the page will load as expected.