Ad blocker interference detected!
Wikia is a free-to-use site that makes money from advertising. We have a modified experience for viewers using ad blockers

Wikia is not accessible if you've made further modifications. Remove the custom ad blocker rule(s) and the page will load as expected.
With the release of the February Update leveling in Blacklight: Retribution has changed to include a prestige system.
Overview
Edit
Currently, when players gain Experience, this is applied to increase their level. With the February Update players can now reach level 100.
Upon reaching level 100 players have the option to return to level zero and increase their Prestige Level by one.
There is no maximum Prestige Level and players can continue leveling as long as they complete matches and gain Experience.
While leveling and prestiging currently do no provide any rewards, Hard Suit Labs has stated "At the same time, the future will bring more rewards to players based on their level and prestige progression. Implementing this system meets the needs for this and builds the foundation from which to do more!"[1]
Original Blacklight: Retribution Levels
Edit
The following is a table of the amount of XP needed to achieve each level of Blacklight: Retribution . Only 30 missing levels!!!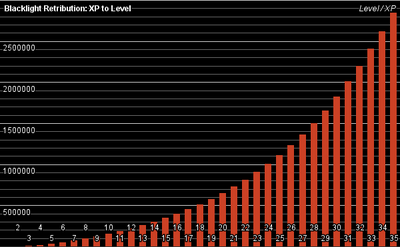 | Level | XP |
| --- | --- |
| 1 | 0 |
| 2 | 5000 |
| 3 | 12510 |
| 4 | 23000 |
| 5 | 37700 |
| 6 | 56810 |
| 7 | 79742 |
| 8 | 104967 |
| 9 | 131763 |
| 10 | 162433 |
| 11 | 195100 |
| 12 | 230708 |
| 13 | 269520 |
| 14 | 311825 |
| 15 | 357937 |
| 16 | 408200 |
| 17 | 462987 |
| 18 | 522704 |
| 19 | 587796 |
| 20 | 658746 |
| 21 | 736081 |
| 22 | 820377 |
| 23 | 912259 |
| 24 | 1012411 |
| 25 | 1121577 |
| 26 | 1240567 |
| 27 | 1370266 |
| 28 | 1511639 |
| 29 | 1665735 |
| 30 | 1833699 |
| 31 | 2015101 |
| 32 | 2209201 |
| 33 | 2414946 |
| 34 | 2630979 |
| 35 | 2855654 |
| 36 | N/A |
| 37 | N/A |
| 38 | N/A |
| 39 | N/A |
| 40 | 4045000 |
References
Edit