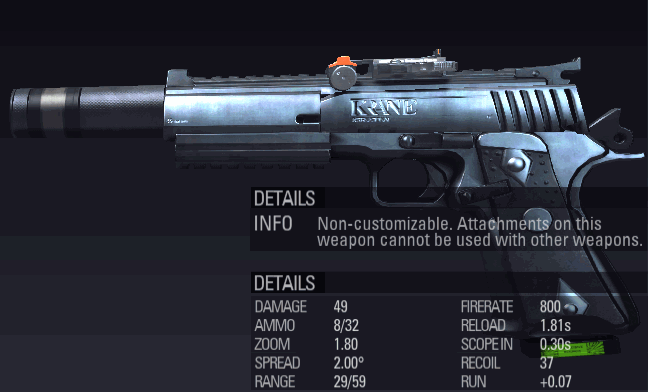 This Heavy Pistol is available in the Marketplace.
It is a non-customizable weapon, its components cannot be used with other weapons, and other weapons' components cannot be added to it. It appears to come with toxic ammo.

Note that this is a premium item, it can only be purchased with ZEN.
Price

| 1 Day | 7 Days | 60 Days | Permanent |
| --- | --- | --- | --- |
| 40 ZEN | 225 ZEN | 640 ZEN | 750 ZEN |
Details

| | | | |
| --- | --- | --- | --- |
| Damage | 49 | Firerate | 800 |
| Ammo | 8/32 | Reload | 1,81 Sek |
| Zoom | 1,80 | Scope In | 0,30 Sek |
| Spread | 2,00° | Recoil | 37 |
| Range | 29/59 | Run | +0,07 |