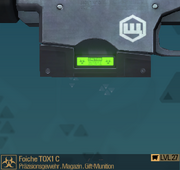 Pre-Parity Information
Edit
The following is no longer up to date with the current version of Blacklight: Retribution and should only be used for historical information.
The Foiche TOX1 C is a Combat Rifle Mag that features Electro Ammunition for the Combat Rifle. It is not possible to purchase this item permanently, but you can rent it for up to 30 days. It unlocks at level 27 and is also included in the Reward Pack for that level as a 3 day trial item.
Toxic Ammunition deals 40% damage immediately, and a further 40% over the next seconds, while the target's view is obscured. Deals 100% damage to targets that are already poisoned.
1 Day: 200 GP / 35 ZEN
7 Days: 1200 GP / 200 ZEN
30 Days: 850 ZEN
Ad blocker interference detected!
Wikia is a free-to-use site that makes money from advertising. We have a modified experience for viewers using ad blockers

Wikia is not accessible if you've made further modifications. Remove the custom ad blocker rule(s) and the page will load as expected.