The Enginner Pack is a Pack that was available in Blacklight: Retribution.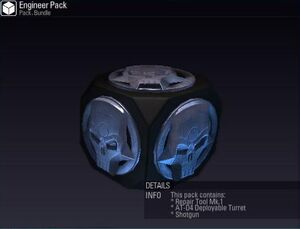 The Engineer Pack was a bundle of 3 items and could be bought from the marketplace for 995 Zen. All items included in this pack are permanent, though the items can be bought with both Zen and GP, the Engineer Pack was a better deal than purchasing the items individually with Zen.
Pack Contents
Edit
Price Comparison
Edit
Price of Engineer Pack: 995 Zen
Total price of the 3 items: 1750 Zen
Ad blocker interference detected!
Wikia is a free-to-use site that makes money from advertising. We have a modified experience for viewers using ad blockers

Wikia is not accessible if you've made further modifications. Remove the custom ad blocker rule(s) and the page will load as expected.