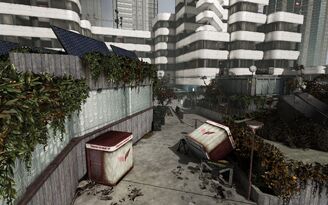 Brutalism is one of the Maps available in the game Blacklight: Tango Down
Description
Edit
Brutalism is a an inner city area as most Blacklight: Tango Down maps. The likely origin of its name is the style of which the structures surrounding the garden are designed; Brutalist. Before becoming the scene of a battle between Blacklight operatives and The Order, it served as a garden dividing the ground floor of two structures. The gray decaying walls are covered with an overgrowth of flora. Lights remain on and structures undamaged which has led us to believe the area was un-evacuated.
Gameplay Description
Edit
Brutalism is an almost symetrical map, with open places and smaller corridors, meaning all weapons are possible to use. Beware of enemies rushing through the central corridor.
The order spawns at the train station, while Blacklight spawn in what looks like a waiting area. This map are is the starting point of the Burial Ground map in Black Ops Mission
There is one ammo crate in each spawn.
There is one health crate just after the spawns.
Top Down
Edit
Below is a top down map of Brutalism.
Ad blocker interference detected!
Wikia is a free-to-use site that makes money from advertising. We have a modified experience for viewers using ad blockers

Wikia is not accessible if you've made further modifications. Remove the custom ad blocker rule(s) and the page will load as expected.