The Armor Pack was a purchasable pack in Blacklight: Retribution.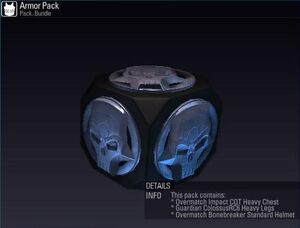 The Armor Pack was a bundle of 3 pieces of body armor. Originally, it could be bought from the marketplace for 995 Zen and all items included were permanent.
Post Parity Patch
Edit
With the release of the Parity Patch, all packs were removed from the game.
Although the items included can be bought separately using both Zen or GP, it was cheaper to purchase the Armor Pack instead of buying them separately if you were planning to pay using Zen.
Items Included:
Price Comparison
Edit
Price of Armor Pack: 995 Zen
Total price of the 3 equipment: 1500 Zen