30 Days of Fight was an event in Blacklight: Retribution.
Overview
Edit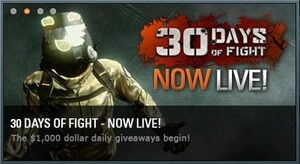 30 Days Of Fight was an event that took place from the 16th of August till the 14th of September. Only players in the United States of America, Columbia, Puerto Rico, Canada and Great Britan that are above 13 years old were eligible to take part. Players under the age of 13 require parental permission. Players get a chance to win $1000 every day within the 30 days by getting Raffle Tickets, which can be earned every match.
Raffle Tickets
Edit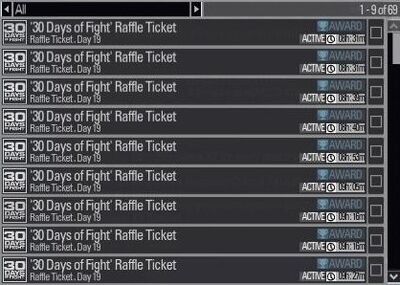 Raffle Tickets can be earned by playing matches. Winning a match gets you 2 Raffle Tickets and losing a match gets you 1 Raffle Ticket. A random registered player's Raffle Ticket will be selected and the player will get $1000. A Raffle Ticket counter will be added to the upper right-hand corner to help you keep track of the total number of Raffle Tickets you have. Raffle Tickets will automatically expire after 3 days to keep inventory space manageable.
The 30 Days Of Fight Emblem is a free item. After your first log in during the 30 days,a news feed will pop up and the emblem will be attached to it.
A title, 'Prize Fighter' will be available after the event to anyone that has earned a Raffle Ticket during the 30 days. Another title, 'Lucky Bastard' will be given to those who won a daily giveaway during the 30 days
A holographic '30 Days Of Fight' trophy will be given out to the top Raffle Ticket earners and the daily giveaway winners.